November 25, 2018
Background
EndChain (ENCN) airdrop was one we recently posted and as with all great airdrops we love to talk more about them. This token has received raving reviews from many highly rated ICO review websites.
ICO Bench: 4.5/5
ICO Marks: 9.4/10
That being said, Airdrop Village takes an independent view on any project which comes our way and EndChain is no different.
Join ENDCHAIN AIRDROP >>> https://airdropvillage.io/airdrop/endchain/

Let's start digging…
EndChain is a logistical solution for the markets and the supply chain. It focuses on ending counterfeit and logistical complications. What the heck does that mean?
The term Logistics to me means the implementation of a complex operation. You have to be detailed and very meticulous to ensure every piece of the puzzle is in place.
Everyone needs a logistic system, whether it be the Government or a major corporation. It is a rather large and complex industry and we spend countless hours with manual input, yet there is minimal transparency. You get the picture..
We can incorporate the blockchain even in the logistics market. This is what EndChain have achieved. With EndChain you can use the blockchain to transmit orders and delivery receipts without the use of a bonded courier. It's all about removing the middleman, saving costs and working more smart.
Join ENDCHAIN AIRDROP >>> https://airdropvillage.io/airdrop/endchain/

The BARCODE AND QR CODE Combo
We all know what a bar code is and we've probably all seen a QR code by now too. It's not unusual for packaging to have a barcode and multiple QR codes attached. Now imagine working as a courier and thinking which code to scan. Scanning now takes double the time, as you're there just guessing.
EndChain's Solution is to combine both the BARCODE AND QR CODE. The solution is genius, as it will also work with older legacy systems too. Minimal training is required for staff, and it allows for greater productivity.  This in turn means greater cost saving efficiencies.
From the start of the supply chain to when the goods are received by the consumer, everything is stored on the blockchain. This comes in handy when we purchase second hand items not knowing it's authenticity. A simple checkmark will tell buyers whether the item is authentic or not.
The best part is, this is patent pending technology!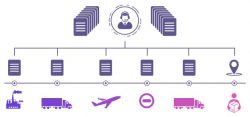 Verdict
I've seen many supply chain logistic tokens out there, but not one as versatile as EndChain. They've made their product affordable, and potentially reach to the masses for adoption. As a business using EndChain's solution you save money and operate more efficiently. Their CEO AARON PERKOWITZ works for the HNA Group, a fortune 500 company. His role… focusing on innovations of the logistics side. What a surprise! EndChain CTO has worked for Google France to digitilise companies. No complaints there…
It's no surprise that I've read many raving reviews of this project. After all, this is patent pending technology and an idea, where you think… Why didn't I think of that!
Three words to summarise, Economy, Efficiency, Effectiveness.
ICO Start Date: 15/01/2019
Join ENDCHAIN AIRDROP >>> https://airdropvillage.io/airdrop/endchain/
AirdropVIllage.io