January 4, 2020

Bali, the touristic capital of Indonesia is a part of the islands' system, based in south-east Asia, in waters spreading between China, Vietnam and Thailand on the north, and Australia in the south.
Among its most splendid wonders we can find such beauties as Pura Tanah Lot – Bali's most iconic temple settled on a rocky islet, Mount Batur – sacred active volcano with spectacular view and 1700m hike to the summit, Ubud Monkey Forest – also known as Sacred Monkey Forest Sanctuary, the harmonious coexistence between animals and humans, or Tegallalang and Jatiluwih Rice Terraces, a paradise for photographers.
But did you know Bali is about to introduce its newest attraction, Margarana, the Dream City?

It hasn't been long since the announcement of the conceptualization and birth of a project called Margarana DreamCity in Bali, Indonesia.
What is Margarana?
It is an awesome project of 610 acres (2,47 km2) and it is aiming to be the world's next world wonder. It is the world's first and only megacity combining wellness, natural healing practices, regrowth and rejuvenation of the body and mind, with elements of green living. All in one neat package tied with attaining inner peace.
The city is located on the northern part of Bali island, approximately 30km north of Negara, in the area of Pulaki.
Margana management describes the place as:
"… formation and integration of several themed squares and sections, each interlocking an area is planned to express hope and energy via a strong pool of cosmic cycling innergy. As such, this brand new Innergy city is suited to all visitors young and old, men and women from all races and religions. It is an Innergy city that does not orient itself to any religion but the culmination and harvest of positive innergy to induce optimistic living and a positive mindset."
Innergy is the ability of a person who has the potential to attain spiritual enlightenment.

Margarana DreamCity Is Built on a Lush Green Landscape
The interesting blueprint of the development of the Margarana area introduces a number of different and unique sections. The complex promises that once you set foot into this eco-park, you will experience an entirely new living style first handed. As a bonus, no outside vehicles are permitted, and visitors will be encouraged to travel by foot or use area's electronic automobile transits.
If there are places to travel by bike remains unknown.
Margarana DreamCity has received The Global Leadership Award 2016 in the category of Excellence In World First Universal Positive Innergy City. The winning aspects were
sustainable design,
natural themes working in harmony,
assimilating key elements of leisure,
natural healing and recreation.
However, our most favorite activity in the park is of a somewhat simpler nature. Engraving our names on the wall of Innergy Tower, the imposing edifice visible from a wide area around, a new symbol of the park.
Margarana DreamCity has 10 key sections worth visiting
1) Margarana Innerstar Tower
The main attraction of the city, placed strategically in the center of the park, visible from every corner of the complex. Its towers and crystals serve as a conduit to the universe, and the tower is built with the sole purpose of recharging its visitors with powerful universal energy for stronger mentality, health, longevity, and vitality.
2) Margarana Palace
Margarana Palace is a luxury hotel with modern architecture, decorated with a natural pristine setting that allows a peaceful retreat between Indonesian landscapes and a coastal oceanic bay. It offers luxury facilities and claims to have world-class service, and outstanding accommodation experience as well.
The mountainous terrain and sea next to each other offer nature's best in one destination, which you are free to enjoy from the hotel's room. Here, from floor to ceilings, windows showcase breath-taking views of the vibrant City Of Lights, and you watch the life of the city unfold along the evening sky gently changing hue.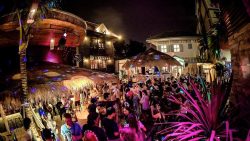 3) Margarana City of Lights
A complex further features a 24/7 shopping street. The street that never sleeps is one of these rare treasures you'll enhance your walk with day or night.
4) Margarana Best Wedding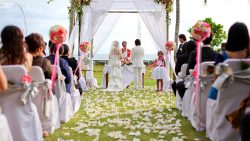 Margarana has also settings for your wedding, a place called "Best Wedding". In the services provided, you can find a professional wedding organizer who will compose a wedding of your dreams utilizing elements of modern days as well as traditional culture.
Only wandering around? Worry not, as a tourist you are welcome to attend the wedding as well, enjoying your life experience, and who knows, maybe meeting your future partner as well.
5) Margarana Residence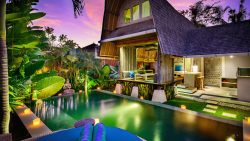 Margarana offers a chance to own quite a different living experience, in a green lush area. Where nature meets beauty and luxury. Where space thrives in modern design, living a vivid dream of space and exclusivity. One of a kind experience.
The project is created to offer a cool and relaxing environment in fairly hot Bali's latitude, cornered by flowery gardens and a landscape under comforting shades. Units are ready to be purchased to the people with the right taste.
That you couldn't afford it? Worry not, the complex offers several financial freedom packages helping you to finance your dream.
6) Margarana World Timeline Experience
We were not fortunate enough to experience this particular place, yet the thing about it in our minds is the fact that there are no technologies allowed, for the purpose of freeing your mind from the daily burden.

7) Margarana Green Haven
A zone for a human-groomed forest. Entering the entangling field of green leaves one feeling refreshed and regrown. An hour a day in such a place and we are sure your ion level would skyrocket.
8) Margarana Film City Production Studio & Studio Magic Hotel
The complex features even film making facilities. It involves several documentaries in regional languages, short films, and shots for your pleasure. Not so large collection is in English, Spanish, French or Russian, and we give it a minus point since the area is otherwise fairly internationalized.
9) Margarana Natural Healing 
Not one, but countless spots in the area are shimmering with natural healing powers. These powers are known to people for thousands of years and were utilized by ancient cultures long before written history began.
We have mentioned a few of them, such as Green Haven (our favorite), but there are more to be discovered by you in the complex, and its nearby surroundings.
10) Margarana World Culture
Not exactly one place, yet this interesting part of the complex is omnipresent. The area is home to culture and cultural habits from the surrounding area, and the complex itself serves as a beacon attracting cultures from the distance.
Get to know local customs, food, and costumes of the people, enrich your experience and feel the natural and historical presence you wouldn't feel elsewhere.
Summary
South-east Asia has a lot to offer. From Vietnam to Thailand, to Singapore. Indonesia is one of more frequently visited jewels in the region and with its hundreds of natural beauties there is no wonder why. From its peaky mountains, active volcanos, to temples on rocky islets, to forests vivid with animals, to modern aquaparks, Bali has an ability to accommodate tourist's attention for quite a while.
And while it may seem sufficient, it is building yet another world's wonder – Margarana DreamCity. The city connecting natural phenomenons and luxury in a yet unseen manner.
It further claims to charge its visitors with universal energy via its obelisk in the form of a tower in the center of the park.
As the park itself has the nature of luxurious resort made for green thinking persons, we would surely advise to pay a visit, and if you like it, buy a residence for your family's summer vacation.
Did you like the article? Check out the website of the city for more details.