November 5, 2018
Background
Ripple is currently ranked 3rd on CoinMarketCap and has Market Cap of $14 billion.
Not so long ago in March 2017, one XRP was worth $0.006 and hit an all time high of $3+ in January 18. That's a whopping gain of 50,000% in just 9 months. Today it trades at $0.45.
With the markets, a coin doesn't just appreciate in value without any sort of news and Ripple is not short of capturing headlines.
This coin has been in the spotlight for the good and bad, most of which seems to be based on rumours. The supposed listing on Coinbase was the driver of it's last all time high.
Even BAT token managed to get listed on Coinbase before XRP (which still isn't listed). Yet Ripple has still kept hold of its number 3 spot.
There is a definite split amongst blockchain enthusiasts on this coin.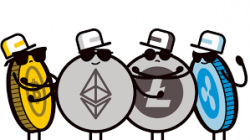 Is Ripple (XRP) a cryptocurrency?
Tokenomics
Ripple (XRP) coins are pre-mined. This means someone created the coins themselves. Unlike Bitcoin or Ethereum, these have to mined by the network.
The Total coin supply of XRP is 100 Billion. Circulating supply right now is 40billion.
Pre-mining in general does not go down well with blockchain enthusiasts. When a coin is pre-mined it usually leads to the creators owning majority of the coin supply.
The founders of XRP own 61% of the coin supply. That's 61 billion coins. Fortunately not all of them can be sold in one go, as this would just crash the market. Only 1 billion XRP can be released each month. You work out the math.
It's no wonder the Founder, Chris Larson is now one of the richest men in the world according to Forbes.
Ripple is one of the faster currencies to transfer from one person to another. It has the capability of 1500 transactions per second (tps). Not just that it can also scale up to 50,000 tps. If you compare that to the top 3 currencies, you'll see that Ripple is miles ahead in this area. Newer currencies like IBM's Stellar Lumens are even faster (we'll talk about them another day).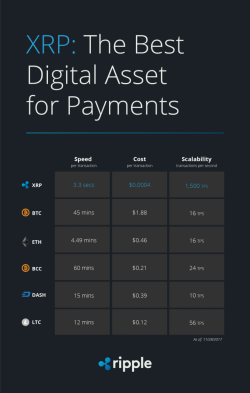 Verdict
It all depends on where you stand with the topic of decentralisation. If tomorrow Ripple was to go to court. It would be the company Ripple who is responsible and be taken to court. There is a clear figure head, which you do not have with coins like Bitcoin.
You cannot mine XRP as it is pre-mined. The beauty of cryptocurrency and why it was created, was to give power back to the people.
Ripple is not open source, meaning the code is owned and modified by the people at Ripple. Again that's not the case for coins like Bitcoin or Litecoin.
We could sit here all day discussing this topic, but the real question is.
What does the term cryptocurrency mean to you?
Do you even care? Or is it all about the gains?
There's a reason why they say, Ripple is the bankers currency.
I leave you at that…
AirdropVillage.io Team