March 16, 2019
What is Windhan? It is a blockchain-based ERC20 green energy crowdfunding and trading platform. ERC20 is a technical standard in the sphere of cryptocurrencies for smart contracts. This platform also uses blockchain technology to create a system based on merits, with the possibility of development into so far unpreceded areas – of renewable energy.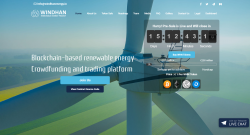 How is that? Windhan energy platform allows other renewable energy projects to be listed on the platform for a time. The platform then has at its disposal equipment and tools to help developers in funding by soliciting small investments from a large number of people. So-called crowdsourcing. It works as a middle man via which investors and customers connect with developers.
Furthermore, it combines green energy producers and consumers (possibly any consumers, as they often have no option whether they prefer green energy or not) to trade renewable energy. It is a platform which intends to combine energy developers, investors, and consumers through a global, decentralized network allowing funding and launching of energy assets.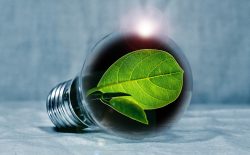 Windhan promises, that once the platform is funded, tokens will be minted to represent each investor's contribution, which sounds fun! But what before the platform is launched? Will you have something for your value, or do you have to wait for the platform to run with a risk of it never coming live?
Well, yes, and no. The platform differs from other platforms in significant detail. Their tokens are backed by an asset. To understand, the company of Windhan is backed up by Holland corporation (ENE&MIG Holding BV) taking care of its properties. So there a reason to think that Holland company won't let you down, as they would drown their daughter with it.
As a bonus, Windhan has a project it has been working on for 6 or 7 years already (since 2012), and has already permits, land, project documented and a plan to continue, making this project look really serious about their intentions.
The company, furthermore, promises that the revenue generated from its projects is distributed to investors (token holders) in the form of energy credits. Still not convinced? Keep reading.
What are those tokens good for, one may ask? And here comes the real catch. You can pay your energy bills with them, making Windhan tokens truly revolutionary. I should not call them a "cryptocurrency" as in their disclaimer is it clearly stated, that the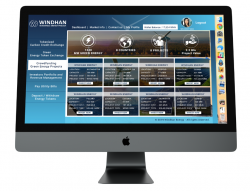 "Windhan (WHN) Token is a utility token, which is not a digital currency, security, commodity, or any other kind of financial instrument and has not been registered under the Securities Act or laws of any other country, including any jurisdiction.".
Yet from time to time I'll use a word for your better understanding.
So, where were we?
Yes. Energy bills are payable in Windhan tokens. The company promises, that one will be able to pay anywhere in the world, yet I suggest consulting your local company distributing the energy if they allow it as of yet. The first project of the company is in Kazakhstan and plans to develop globally, so perhaps first people with such options are Kazakhstanee, with a possibly bright future for the rest of us coming soon.
Windhan's plans
To build the renewable energy project in Kazakhstan.
To create a marketplace, where all interested stakeholders, thus producers, investors, and consumers, could connect, get funded and trade green energy via blockchain.
To create a digital crypto-token for renewable energy financing and trading.
To take advantage of blockchain technologies and enable transparent transactions between producers, investors, and consumer via smart-contracts.
To connect renewable energy communities worldwide. To take a leap towards slowing down global warming.
Adoption of Blockchain Model in Windhan
The project of Windhan has implemented the blockchain technology with a thought to decentralize the market of energy, to create transparency, trust, and most importantly security between all interested parties.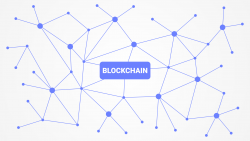 Through this peer-to-peer technology, the energy transactions can happen in a not centralized way, and transparently for all interested parties. It also, by excluding governments, corporations and third-party vendors, reduces costs of transactions, allowing for borderless exchanges. It is no longer the government's and corporation's work to sell energy, now even individuals can trade it among themselves.
This idea allows payment using cryptocurrencies through blockchain technology, so a transparent exchange can also take place. In the sector Windhand operates, reducing costs is a priority, as very often customers are forced to overpay on third parties involved in the trade. Furthermore, they have no option whether to buy green energy only or just any energy.
With a blockchain technology, you don't really need any third parties to make guarantees because it doesn't matter how you trust your trading partner. Instead, it is the blockchain that decides whether the partner is trustworthy or not.
The Windhan uses also smart grids, at least they claim so in their whitepaper. This piece of technology then sets semi boundaries for a trade to more or less a local level, with fewer opportunities for energy speculators, while not restricting the worldwide investors. Smart contracts on the blockchain could then balance supply and demand locally as well as enabling peer-to-peer trade. Every user then marks his preferences in the decentralized ledger.
Windhan promise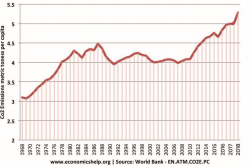 As you can see in the graph below, CO2 production per capita in the world rapidly rises. The renewable energy sources promise a decline in production of this toxic gas. The Windhan then promises to tickle a whole variety of problems connected to global warming and depleting natural resources. What are those?
Significant global energy demand growth, especially since WW2. Ever since it keeps growing at an unpreceded rate making new recourses obligatory, reducing the carbon footprint ever more important.
Generating electric power is a major pollutant factor worldwide. Globally, 76% of produced electric power comes from burning fossil fuels and other nonrenewable Needless to say, those ways deplete natural resources and take a harsh toll on our environment. Often economies are so tied to the oil and gas to generate electricity, that if the price were to rise, it would thoroughly impact them.
The company aims to minimize the dependency on not green sources of energy, reduce pollution by reducing pollutants, and to be less dependent on a single source of energy by diversifying the portfolio of energy sources available on the Earth. Removing environmental damage is also very important.
The potential of renewable energy is large at the market, and its financing has plenty of gaps to be filled. This is true especially in still-developing economies, where the potential for doing things right from the beginning is greater. Due to all those troubles, most private companies and corporations are not interested in taking part in renewable energy projects.
The incentives, technology, old mindset, the legacy of technology and ideas, and most importantly the political systems are inherently flawed and outdated. It doesn't have to necessarily The future is always built on legacy technology, but never on legacy mindset.
Participants in green-related programs are commonly frustrated by the issues Windhan tries to tickle. Among other problems, we can mention is the fragmentation, administrative cost, possible fraud, and lack of focus on the real environmental impact, and most importantly, financing. Going over budget is a common practice, in third world countries also heavily due to money and information leaks.
So what do you think? Is Windhan going to handle some of those problems as they wish to? We personally think that such a goal is perhaps too ambitious, but being able to tickle just a half of those, and that alone will be enough to start an avalanche of changes.
Windhan Project – What is it about then?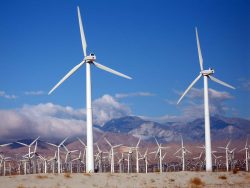 In general, the project is simple. To build energy platforms around the world to provide green energy. Starting with 108MW windpower generators in Kazakhstan, where Windhan Ltd. has received all the necessary permissions, building permits as well as a signed Power Purchase Agreement they claim. Furthermore, Windhan says that project construction is ready to begin.
Where exactly in Kazakhstan?
The project will be located on the south/east part of Kazakhstan, 250 km to the west from city Almaty. The place was chosen, in words of Windhan ltd, because
"The geographical location benefits from stable and strong easterly winds coming from the valley. The necessary land plot for the installation of the wind turbines as well as the access roads, substation and crane areas is already purchased and in the property of Windhan Ltd. The location is within steppe ground, with no households or farmland, allowing perfect turbine layout and operation."
Not one, but two
And the energy generating platform isn't the only project executed. After all, that is why we talk about it here. The support project of this platform is a marketplace for consumers and producers alike, with blockchain based green energy platform. This blockchain platform then aims at a wide variety of customers (B2B, B2C, P2P trading), to trade tokenized energy, carbon credits, and utility bills.
Windhan also provides an opportunity for green energy producers to list their projects for crowdfunding, creating some kind of Green-energy-Kickstarter. The listed projects are then obliged to donate 1% of their revenue back to token holders of Windhan platform, creating a fairly interesting valuation model.
Ten are better than 2, AKA 1 WHN TOKEN = 10 ADVANTAGES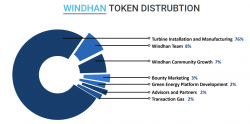 Tradable crypto-currency.
Platform for crowdfunding green energy projects.
Access anytime, anywhere.
Buying and selling of tokens via energy tokenization.
Platform for trading carbon credits.
Loyalty and VIP membership programmes.
Multi-user access.
Platform for energy bill payments and investments.
Overview of your portfolio at all times.
User-friendly dashboard and mobile applications.
Windhan Tokens' closer look
The Windhan (WHN) token was created to follow business and to store the value of business core – the green energy. WHN token stores the value firstly of the operations in Kazakhstan – 108 MW wind park active in 2019, and you could use this energy token for your personal needs, sell it or store it for rainy days – if you are local. But even if you are not from Kazakhstan you can contribute in the platform. As this token allows you to invest also in other green energy projects listed there, you can be sure to use it for more appealing projects soon.
Token Sale Goal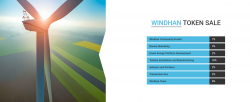 In few words 190 mil EUR, or 250 mil tokens. Is it a lot? Is it not? In comparison to some large crypto goals, such as 3 bn EUR sales goal for Kuverit it is truly little, as currently, the WHN tokens are primary currency used at Windhan platform.
To support platform development, tokens will be sold to contributors aiming to provide 20 Million tokens at a 50% discount in the presale, decreasing the discount gradually. 24% discount for 30 Million tokens in the first week, 40 Million tokens at a 12% discount in the second week, 40 Million tokens at a 6% discount in the third week and 60 Million tokens at a 4% discount in the last week of the ICO.
So if you plan to buy some, do so rather earlier than later, as you can save up to 50% of the initial purchase price.
Where to go next?

The future expansion plans for The Windhan Green Energy Platform are already being put in place, as the main platform is being launched in Kazakhstan on a pilot project basis. Further plans then consist of launching similar wind, solar and hydropower plants across the world, starting with countries in Europe.